Looking at the world with bright, new eyes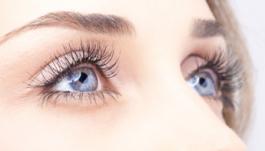 It is curious that the path towards cataract removal surgery is often long and slow and yet, when the time comes to meet the surgeon, the process is quick, painless and a true and literal eye opener.
I had been happily wearing contact lenses for many years and then on one visit to the optician several years ago I was told I was developing a cataract in my right eye. She was most reassuring and used a phrase that seems to be common in this process that it might never get "ripe" enough to require surgery. I was a little shaken at the time, not by the prospect of possible surgery but by the realisation that time was passing – only old people had cataract surgery and inside I was still 21!
Life continued and the changes in my sight were so gradual that I barely noticed. I think the most obvious difficulty was that car headlight glare was more challenging, particularly the bright blue/white lights coming from bigger, higher cars.
The time passed and on a routine visit to my optician I was told the cataract in my right eye was now "ripe" and, to my surprise, that I also had one that was well developed in my left eye. My optician said she would put my name on the Consultant's list at our NHS Hospital, Aberdeen Royal Infirmary, but warned me that the waiting list was rather long. I said I would like her also to refer me for a private consultation.
Within days I received a letter from Mr Aravind Reddy's secretary and I went for my first private consultation at Albyn Hospital in Aberdeen in December 2017. I think many of us are apprehensive when we have concerns about our eyes but Mr Reddy was calm, reassuring and a consummate professional. He explained that he would remove the cataract in each eye and then implant a new lens, correcting my vision. He then scanned both my eyes in order to get detailed measurements of each eye. Because I have been wearing contact lenses for a long time he asked me not to wear lenses for two weeks so that he could measure my eyes again. He explained that contact lenses often alter the shape of the eye and, therefore, eye measurements might be inaccurate. When I returned two weeks later, this in fact, proved to be the case – one eye measurement was substantially different.
Mr Reddy was able to offer me an appointment to have my right eye done five days before Christmas. He explained that because there are no stiches, there would be no limit to what I could do immediately afterwards – including driving or flying if I wanted to. Stuffing a turkey would be no problem at all!
Prior to the surgery I was given a series of eye drops and although I wasn't stressed, I admitted to being a little apprehensive about the procedure. Mr Reddy was most understanding and prescribed a Temazepam, which very gently helped me to relax. It was a terrific feeling. In fact, when I was going to Theatre I joked with the nurses that they should ask Mr Reddy to prescribe them each a Temazepam every morning!
When I got to Theatre, I settled back on to the operating table while Mr Reddy and his team chatted quietly in the background. The atmosphere was professional but calm and relaxed. A nurse held my hand and I was told to squeeze her hand if for any reason I needed the procedure to stop. I was aware of very bright light, water in my eyes and a very mild pricking sensation. The entire procedure took about 20 minutes, although to me it seemed less. An hour later, after a much needed pot of tea and biscuits, Mr Reddy checked my eyes and I left Albyn with my daughter. At no point after the surgery did I experience any discomfort. I used the prescribed drops for the next month, wore the eye mask at night only and avoided getting tap water on my eyes. I solved the problem of washing my hair by treating myself to hairdressing appointments!
Before I had the other eye done, three weeks later, I had the fascinating experience of comparing the vision between my "new eye" and my "old eye". I remember sitting at my dressing table and watching a plane, quite high up, coming into Aberdeen Airport. Through my "bad eye" it was barely visible but through my "good eye" it was pin point sharp and crystal clear. This was also the case when I looked at the birds on the feeders in my garden.
Mr Reddy thought I would probably still need to wear reading glasses after the surgery but so far I haven't needed them, other than when I'm tackling very small print or I'm in bad light.
On a lighter note, I had begun to think my lounge needed redecorating and that my suite would have to be recovered. I was mystified that I had picked such drab colours in the first place – it just wasn't me. My daughters were bemused by my attitude. They thought the colours were lovely. Since my eye surgery I realise nothing needs to be repainted or recovered. All the colours are as fresh and vibrant as they were when I chose them! I really am looking at the world with new, bright eyes.
Alison Bruce
April 2018
Patient stories and reviews about...