Hip replacement surgery at Horton Treatment Centre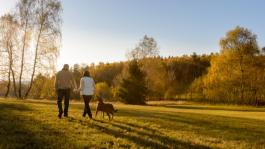 Life changing surgery means Patricia is now pain free
Patricia Walker was recommended Horton Treatment Centre without hesitation by her Physiotherapist, after suffering from left hip pain that was affecting her sleep.
Ms Walker said 'My first experience of Horton Treatment Centre was in the outpatients department and it was totally amazing. The whole team seemed most efficient.'
Patricia, who lives in the Cotswold's town of Moreton-in-Marsh needed a total hip replacement had never been hospitalised before and said coming to Horton Treatment Centre was a huge relief.
Ms Walker said she would most certainly recommend the services she experience at Horton Treatment Centre to her friends and family and can't think of a single criticism regarding the care she received.
She added 'staff in every department were helpful and obliging in all ways. From reception to outpatients, physio and the occupational therapist, all were just first class. Such great care was taken by everyone and the skill and expertise of my Surgeon and the Anaesthetist was wonderful.'
It wasn't only the clinical care that impressed Patricia. She commented 'The catering department was excellent with delicious, fresh food with variety that was well presented.
'Alison the ward clerk was my social secratary for my 4 nights on the ward, delivering the post and handing me the phone! Phil the Porter was kindness itself, always helpful and with a great sence of humour'.
Following her surgery Patricia is now pain free and said 'it is wonderful to finally be comfortable in bed at night!'
Patient stories and reviews about...