About Royal Free London NHS Foundation Trust
The Private Patients Unit (PPU) at Royal Free London NHS Foundation Trust provides world-class hospital treatment and care, including expert haematology, liver, kidney and breast services, at one of the capital's top teaching hospitals.
Expert private hospital treatment
Conveniently situated on the 12th floor of the Royal Free Hospital in Hampstead, ten minutes' drive from Central London, the PPU at Royal Free London NHS Foundation Trust comprises three in-patient wards and supporting daycare and hospitality facilities.
As a leading NHS Foundation Trust, the Royal Free provides a wide range of specialist services and exemplary clinical care. Its academic collaboration with other London hospitals as a member of UCL Partners puts it at the forefront of medical research and innovative treatments.
Rated 'excellent' by the Care Quality Commission, Royal Free London NHS Foundation Trust prides itself on its high standards of patient safety and infection control, resulting in some of the lowest mortality rates in the UK.
In-patient care
The Private Patients Unit at Royal Free London NHS Foundation Trust is able to provide patients with access to some of the country's leading specialists and the extensive services of a large teaching hospital, whilst enjoying the comfort and privacy of dedicated facilities, including:
Well-equipped single occupancy rooms with ensuite bathrooms
Five-star catering able to meet all dietary needs
Unrestricted visiting times
24-hour consultant-led, multidisciplinary care
Four high-dependency beds
Reserved access to hospital facilities, including imaging
World leading haematology, liver and kidney services
A major centre for liver, kidney and bone marrow transplantation, Royal Free London NHS Foundation Trust is internationally recognised for its expertise in the diagnosis and treatment of haematological malignancies and conditions affecting the liver and kidneys. All their specialists are actively involved in research and, in addition to providing all the standard therapies, are able to offer patients the latest treatments and technologies.
Pioneers in breast cancer treatment and diagnosis
The Royal Free breast unit is recognised for teaching and research in addition to its clinical excellence, being highly rated as a specialist training centre for surgeons from the UK and abroad. The unit was an early adopter of electrochemotherapy, which helps cells become more receptive to cancer-killing drugs and, in 2013, The Royal Free became the first hospital in the UK to introduce new PET (positron emission tomography) imaging technology for breast cancer.
In collaboration with University College London (UCL), The Royal Free has undertaken research into keyhole mastectomy, nipple endoscopy, photodynamic therapy and new computer software to aid clinicians in decision making. They are leaders in the use of sentinel lymph node biopsy, rapid intra-operative testing surgery and intra-operative radiotherapy.
Travel Health and Immunisation Clinic
Royal Free have a dedicated Travel Health and Immunisation Clinic, led by Consultant Physician, Dr Jane Zuckerman. They provide a comprehensive travel health and immunisation service to private patients with a wide range of immunisations and vaccines available for both adult and children, including the Meningitis B Vaccine.
Other specialist services available
Abdominal surgical sarcoma service
Royal Free London Private Patients in Hadley Wood
The Royal Free London Private Patients, Hadley Wood is a new out-patient unit conveniently situated off Barnet High Street, close to a wealth of shops, restaurants and other local amenities.
The unit has been opened by the Royal Free London Private Patients Unit in Hampstead Heath and combines the convenience, comfort and personalised attention of a Private Hospital with state of the art, technology and the professional excellence you would expect from a top London teaching hospital.
At The Royal Free London Private Patients, Hadley Wood, each patient is cared for individually and treated with dignity, compassion, kindness and respect. Patients' experience of care is our key priority and we ensure that each of our patients receive the highest possible standards of quality care by our efficient and competent staff, both clinical and non – clinical.
To read more about our hospital and the treatments and services we offer there, please visit our website: www.royalfreehadleywood.com
Getting treatment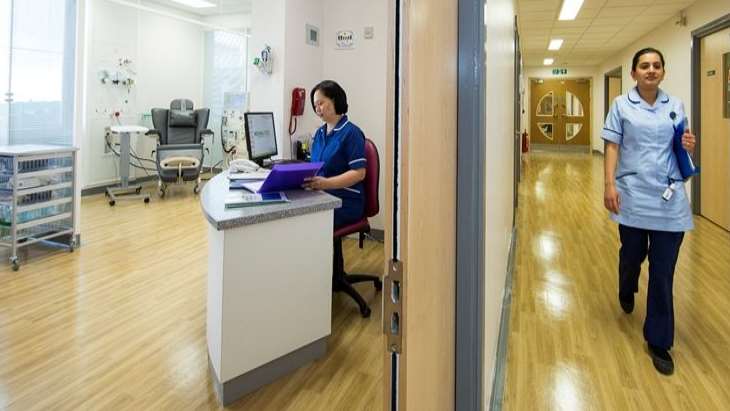 Royal Free London NHS Foundation Trust welcomes both insured patients and those who wish to self-fund their treatment.
International patients
Royal Free London NHS Foundation Trust makes every effort to make hospital treatment with them as comfortable and stress free as possible for patients travelling from overseas. Their experienced customer service team is available to help with matters such as transport, accommodation, visas, liaison with embassies and interpreting services. International television channels, newspapers and magazines are provided, as well as a multi-faith chapel and choice of food to meet every cultural requirement and taste.