Knee replacement surgery at Horton Treatment Centre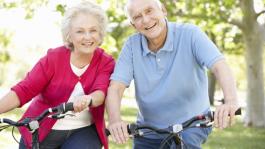 Judith Franklin has enjoyed her experience of Horton Treatment Centre so far and has written about her appointments leading up to her surgery in 2017.
'I heard about Horton Treatment Centre in Banbury when my GP recommended the Hospital.
On my first visit, I was greeted warmly at reception and given clear direction to the outpatients department. The hospital is beautifully clean. It is spacious and the waiting rooms are comfortable.
During my pre operative and consultant appointments all the staff I encountered from receptionists, cleaners, nurses and physiotherapists were very cheerful, pleaseant and welcoming. Everyone talked at my level, and put me at ease when I was nervous.
My knee replacement operation is now scheduled for just 3 weeks time, in January 2017 and I can't wait to be able to move about more freely without pain. As a foster carer, my knee condition has meant I have been unable to work until I am more mobile.
I have already been boasting to friends and family about how lucky I am to be able to have my operation at this luxury hotel!'
Patient stories and reviews about...