Endoscopic lung volume reduction at Spire Leeds Hospital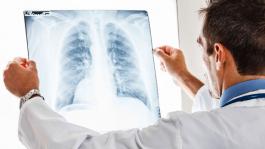 Keith Young, who suffers from emphysema, travelled almost 6,000 miles from his home in Durban, South Africa, to undergo a new treatment which can help improve lung function and breathlessness at Spire Leeds Hospital in Roundhay.
The 68-year-old businessman was first diagnosed with the condition 32 years ago. He suffered from shortness of breath, which affected every aspect of his personal and professional life. Even walking a short distance was difficult, and climbing a flight of stairs was impossible.
He had considered and explored all options, including a heart and lung transplant, and realised, as he got older, if he did not get treatment, the condition would become increasingly difficult to deal with. Up until now, more invasive surgery has been the only surgical option for people with this condition so Mr Young was pleased to learn about the new treatment option.
Mr. Papagiannopoulos performed the treatment, known as 'endoscopic lung volume reduction' on Mr Young in September 2011. The treatment involves using a small flexible camera, which is passed into the lungs via the nose or mouth. Between two and five small one-way 'endobronchial valves' are then placed into the lung wind pipes to allow air to escape from the over-inflated part of the lung.
Developed over the past 10 years in close collaboration with leading clinicians in respiratory medicine, less than 3,000 procedures have been performed in Europe. Relatively new to the UK, Spire Leeds Hospital is one of a handful of private hospitals in the country offering the treatment.
"Every year around 900,000 Britons are diagnosed with lung conditions such as emphysema and chronic bronchitis which leaves them breathless," said Mr. Kostas Papagiannopoulos, consultant thoracic surgeon at Spire Leeds Hospital. "This is a minimally invasive treatment for Emphysema. It's helping some patients to breathe better, walk further and stay better conditioned."
The treatment takes between 30 minutes to one hour. After the treatment patients stay in hospital between one to four days.
With the valves in place, when a patient exhales, the air is able to move through the valves and out of the lung compartment. When the patient inhales, the valve closes and blocks air from entering that lung compartment.
"The procedure blocks the 'bad' parts of the lung from breathing, allowing more space to the 'best' parts to breathe, which is the case with Mr Young," said Mr Papagiannopoulos.
Commenting on the treatment one month after the procedure, Mr Young, who is married with six grown up children, said, "I am now using the bottom part of my lungs which I was not before. I'm able to breathe properly and more deeply. Yesterday I was able to climb a flight of stairs and carry on walking without getting short of breath. That's a huge difference for me. Although it's early days, my quality of life has already improved and I'm excited about the future. I'm especially looking forward to spending more time with my family."
Mr Papagiannopoulos added, "As there's no invasive surgery there are fewer 'surgical risks', no surgical cuts and violation of the body cavity and the effects can be almost immediate. The procedure provides another option for the treatment of some cases of a very pervasive disease."
Patient stories and reviews about...