Professor Mark Whiteley is a pioneer in the field of non-surgical varicose veins treatment in the UK and founder of The Whiteley Clinic, a leading group of private medical facilities that specialises in the treatment of venous conditions following the research-based Whiteley Protocol®.
Training and experience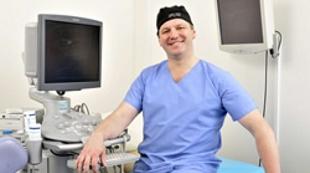 Professor Mark Whiteley graduated from St Bartholomew's Hospital, London in 1986. Following his general surgery training, he began specialising in vascular surgery in 1992 and completed a Masters in Surgery in 1994. From 1995 to 1998, he was a lecturer in surgery at Oxford University. Professor Whiteley was appointed a Consultant Vascular Surgeon in Guildford 1998 and went on to perform the first endovenous 'keyhole' varicose vein operation in the UK in March 1999.

In 2001, Professor Whiteley established The Whiteley Clinic as a private medical facility dedicated to the treatment and research of varicose veins and other venous conditions. Recognised nationally and internationally for their work, over the subsequent years he and his team have been at the forefront of innovation in this field, developing new procedures and continually improving minimally-invasive, office-based techniques. They have won several international and national prizes for this work.
Professor Whiteley's world-famous Whiteley Protocol™ is based on 20 years of collated data from his experience, studies and audits. Continually evolving and specifically devised to identify and address the underlying causes of varicose veins, it ensures that every Whiteley Clinic patient receives a consistent and excellent standard of diagnosis and treatment, regardless of which doctor treats them.

Regarded as a leading voice in the treatment of venous conditions, Professor Whiteley regularly travels internationally to present and teach at conferences and forums. He has previously sat on the Council of the Venous Forum, a section of the Royal Society of Medicine and the main venous body for professionals dealing with venous disease in the UK and was a director of the Charing Cross International Vascular Meeting for 5 years. However, he left both to found The College of Phlebology, an organisation dedicated to excellence in venous understanding and treatments.
In addition, Mark sits on the International Committee of the American Venous Forum (AVF) and also sits on the International Group of the UIP writing the international guidelines for Pelvic Congestion Syndrome. He is the founder and trustee of the Leg Ulcer Charity, which aims to empower patients, their families and their carers to understand their condition and know how to go about seeking a permanent cure.
Professor Whiteley has featured in the Tatler Good Surgery Guide for the last 10 years and was named 'Best for veins' in 2018. His clinics in London, Guildford and Bristol are rated 'Outstanding' by the Care Quality Commission.