About Cardiff Bay Clinic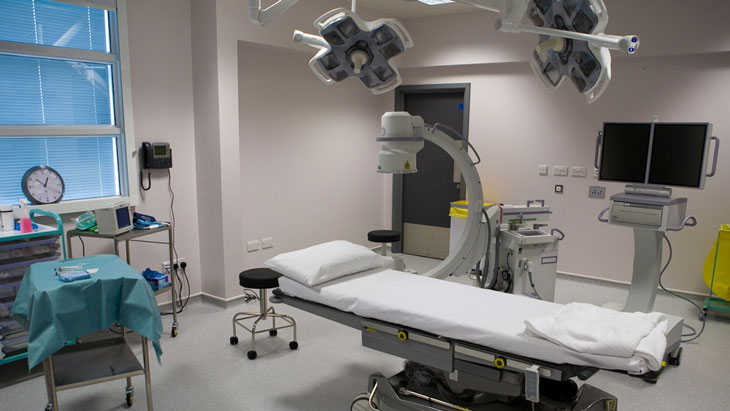 Although Cardiff Bay Hospital is part of the Nuffield Cardiff & Vale Hospitals group, it is a separately functioning and fully HIW registered Hospital in its own right. The modern building has been furnished to the highest standards throughout and contains all of the most up-to-date diagnostic and clinical equipment. There is ample free car parking on site.
The Hospital is a clearly planned, two-storey building which is divided into distinct zones. The main reception, diagnostic and assessment services are located on the ground floor, with the outpatient consulting suites on the first floor left hand side of the building. The daycase theatres and endoscopy suite are situated on the 1st floor on the right hand side.
The 15 comfortable consulting rooms and modern daycase operating theatres are supported by the latest diagnostic technology, allowing The Cardiff Bay Hospital to offer rapid access to high quality diagnosis and treatment for a wide range of specialities.
Core services
Sports Medicine
Orthopaedics & Rheumatology
Gynaecology
Breast Screening
Gastroenterology
Eye/Cataract Surgery Centre
Ear, Nose and Throat
Prostate Screening Clinic
Endoscopy Services
Patients will receive a premier endoscopy services at Nuffield Health Bristol Hospital. The examination of internal organs helps determine and check for irritations, ulcers and abnormal tissue. A selection of endoscopy treatments are available at the hospital, including:
Gastroscopy
Colonoscopy
Capsule endoscopy
Narrow band imaging to highlight inflammation and early cancer
Breast Services
Cardiff Bay Hospital offers a one stop breast clinic that is available to both male and female private patients. The clinic is led by consultant breast surgeon, These Clinics helps determine if patients need further treatment for breast problems. During the Initial appointments, patients' medically history will be reviewed and a breast assessment will be performed. Patients will then be given a diagnosis and informed if any further tests or treatments are required. Additional tests may be required to help determine the breast issue, including:
Mammogram
Ultrasound
Needle Biopsy (FNA)
Core Biopsy
Spinal services
Patients can receive excellent care and treatment for all spinal problems at the hospitals spinal centre. The spinal consultants offer the most advanced spinal treatments including minimally invasive spine surgery and the latest in spinal fusion and disc replacement techniques. Patients will be seen by an expert team of spinal consultants who work closely the clinic's physiotherapy and rehabilitation team including specially trained spinal physiotherapists, an osteopath, chiropractors and a spine pain management consultant to ensure patients a speedy recovery.
Orthopaedic Clinic
Nuffield Cardiff Bay Hospital Hospital has a team of skilled orthopaedic consultants who provide services for patients spinal, upper and lower limb conditions. Patients have fast access to a range of diagnostic services including, X-Ray, CT scans and MRI scans to help determine the cause of their problems and will receive an individual tailored treatment plan to encourage an effective recovery. Orthopaedic services available include:
Ankle
Elbow
Foot
Hand
Hips
Varicose Veins
Nuffield Cardiff Bay Hospital offers a variety of varicose vein treatments. There is no need for a general anaesthetic and patients can have their treatment and continue with their day. The new techniques used at the hospital results in minimally scarring and swelling, usually allowing patients to continue with all of their normal activity with one to two days