About Moorfields Private
Moorfields Private is the London-based private division of the world-renowned Moorfields Eye Hospital NHS Foundation Trust, with a reputation as a centre of excellence for providing ophthalmic care to private patients from the UK and across the world.
For over 200 years Moorfields has pioneered research, employed the brightest minds and delivered visionary eye care. They are proud to be considered a world leading destination for expert eye treatment.
Being part of the Moorfields heritage provides the reassurance that you will have access to world-class consultant eye specialists who provide treatment and care for private patients with a wide range of eye problems, from common complaints to the most complex eye health conditions that often require treatment not available anywhere else in the world.
This, together with access to their flagship centre offering the latest laser and implantable contact lens treatments for vision correction and consultants specialising in cosmetic eye treatment, enables private patients to access the most comprehensive range of ophthalmic services available in the UK.
Their patients frequently recommend them to their family, friends and colleagues as their preferred provider.
Their financial surplus is re-invested back into Moorfields to support NHS services.
World-class care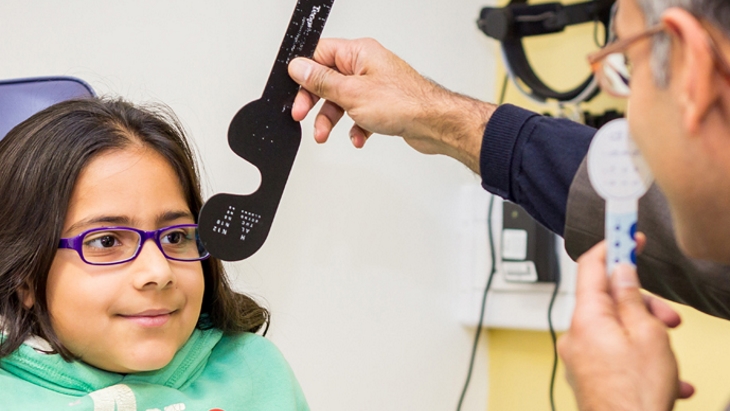 Moorfields Private has built its worldwide reputation as a preferred private provider of specialist ophthalmic treatment to patients of all ages who are referred from both within the UK and overseas. This, patient-centered care together with the latest treatments for eyesight correction and cosmetic eye treatment, provides a comprehensive range of services for private patients.
The key ingredient at Moorfields Private is continuity we put the focus on patients, from the first initial consultation, to surgery and follow-up care. At every visit, you will see the surgeon of your choice who will supervise every aspect of your treatment., All consultant ophthalmologists at Moorfields hold accredited positions at Moorfield's Eye Hospital NHS Foundation Trust.
Specialist treatment
As well as treating the full range of common eye conditions, surgeons at Moorfields Private are specialists in laser eye surgery, cataract surgery and cosmetic eye surgery. Surgeons are also experienced and in the treatment of rare and complex eye conditions. The team includes specialists in the following fields of ophthalmology:
Adnexal (eyelids, orbit, tear glands etc)
Cataract
External eye disease
General ophthalmology
Glaucoma
Medical retina
Neuro-ophthalmology and strabismus
Ocular oncology
Paediatrics
Eyesight correction surgery
Uveitis
Vitreo-retinal

A full list of the services available can be found here: Moorfields Private Services
Laser eye surgery and contact lens implantation
Moorfields Private provides state-of-the-art facilities for laser and lens implantation surgery, including all the latest technologies for assessment before treatment. Theyhave been involved in research and development in refractive surgery from the time it was introduced in 1991. As Moorfields Eye Hospital NHS Foundation Trust is a flagship location for eye surgical technology, their surgeons have access to the latest lasers and diagnostic equipment, and we continue to work with manufacturers on technical advances. Theyalso train surgeons from all over the world in the latest techniques.
Overseas patients
Moorfields Private warmly welcomes patients from overseas. Please refer to the new government advice guidelines if you are travelling in the UK from overseas.
The experienced consultants that practice at Moorfields Private see many visitors from outside the UK, and offer everything from the latest laser vision correction to specialised care for rare conditions. Children are treated in their dedicated paediatric unit, with registered children's nurses and a playroom staffed by qualified specialists.
For embassy, corporate and third party sponsors wishing to refer their patients to the hospital, their dedicated patient service co-ordinator is the main point of contact overseeing all aspects of your patient's treatment pathway from the initial consultation to discharge and follow up appointments.