Danny Morrison: Profile
Mr Danny Morrison FRCOphth BSc MBChB MD is a Consultant Ophthalmic Surgeon at Guy's and St Thomas' Hospital, London, and Honorary Senior Lecturer at King's College, University of London. His private practice covers the full range of eye problems in children and general ophthalmic conditions, eyelid surgery and oculoplastic surgery in adults. Mr Morrison's main base is the Portland Hospital.
Training and experience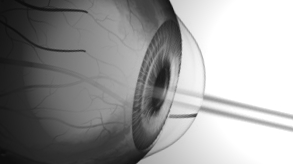 Mr Morrison qualified in medicine from The University of Sheffield in 1990. One of the top students in his year, he was also awarded a first class honours degree.
Choosing to specialise in ophthalmology, Mr Morrison worked at hospitals in Brighton, Leicester and Edinburgh before taking up a post as Senior Specialist Registrar at Moorfields Eye Hospital in London. Whilst at Moorfields, he completed advanced Fellowship training in ophthalmic plastic surgery, followed by a further Fellowship in paediatric ophthalmology at Great Ormond Street Hospital and King's College London.
Mr Morrison undertook a period of research into congenital eye malformations with The Department of Health in Scotland resulting in an MD thesis with the University of Edinburgh. Mr Morrison was appointed Consultant Ophthalmic Surgeon at Guy's and St Thomas' Hospital in 2005.
Clinical interests
As part of The Paediatric Ophthalmology Team and The Eye Team at Guy's and St Thomas' and The Evelina Children's Hospital, Mr Morrison sees children with genetic eye disease and clinical genetic syndromes. He also has a particular interest in squints, blocked tear ducts, lid lumps and congenital and acquired ptosis in children. In addition, his practice includes ophthalmic plastic surgery and lacrimal surgery for adult eyelid problems, as well as the treatment and management of general adult eye conditions.
Mr Morrison is a former medical advisor to the Eyeless Trust, a charity that supports children born with severe congenital eye abnormalities. He has featured several times on the BBC's City Hospital performing squint and oculoplastic surgery.
As a fully trained expert witness, Mr Morrison makes frequent court appearances and is experienced in the preparation of expert medical-legal reports. He has a specialist expertise in Shaken Baby Syndrome and eye-related Non-Accidental Injury.
Research interests
Mr Morrison has published many articles and papers in the field of paediatric ophthalmology, oculoplastics and ocular genetics and has presented his work at international meetings. He is a regular reviewer for leading journals such as Archives of Ophthalmology, The British Journal of Ophthalmology and Eye.
Actively involved in teaching, Mr Morrison is Lead Consultant for Undergraduate Ophthalmology Teaching at St Thomas' Hospital and a Co-Chairman for Admissions interviews for Guy's King's and St Thomas' Medical School (GKT). He is a regular examiner for GKT.
Contact Danny Morrison
Mrs Gillian Brooks, Mr Morrison's Executive Personal Assistant, can be called on +44 (0)7548 685538. Contact her for any direct enquiries about Mr Morrison's private clinic.